Annie's Experience at Miriam's Jewelry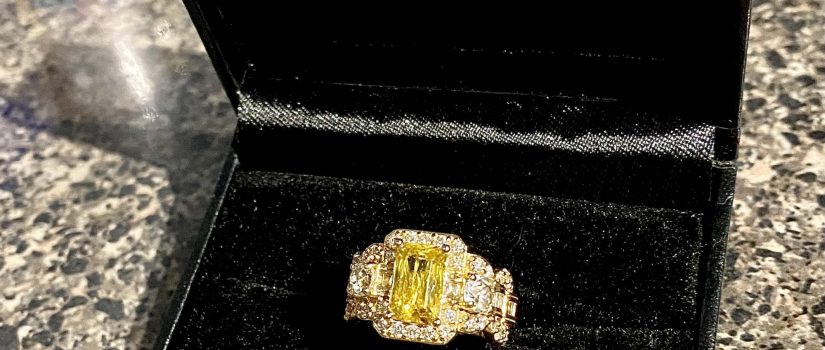 Annie D. knew she was getting proposed to soon, and she wanted to make sure her diamond engagement ring was as special as she knew her engagement moment was going to be. She's admittedly very particular about her jewelry and knew exactly what she wanted: a custom engagement ring that incorporated the family diamonds that were passed down to her.
Annie brought a drawing of her ring to a local, small jewelry store and began working with them. She gave them the drawing of the type of ring she wanted in June, but five long months passed with no progress from said jeweler. Annie hasn't received a single email, text message or phone call from the business, so she decided to end her process with the jeweler in November.
Thankfully, Annie's mother, Cindy, was having her ring upgraded at Miriam's Jewelry around this very time. She spoke wonders of the customer service she received. Cindy loved how responsive and thorough the Miriam's Jewelry team was throughout her own upgrade process, so she recommended Miriam's to Annie. Annie visited the Ponte Vedra Beach location, where Benji and Ian greeted her with warm smiles and undivided attention. After showing Benji and Ian the illustration of the unique engagement ring Annie wanted, the Miriam's team knew exactly what to do.
"They involved me every step of the way," said Annie. "The difference between Miriam's and the first store I went to was communication. Benji and Ian were on top of it and in constant communication with me, asking for approval during the entire process. They were genuinely excited about my engagement and the ring, which made me even more excited."
In just a couple of weeks, Benji and Ian were ready to show Annie her finished engagement ring. It was everything Annie had hoped for and more: the perfect engagement ring. It included her family's diamonds and several new diamonds, beautifully blended together to create a unique, one-of-a-kind, custom ring that Annie and her loved one will cherish forever.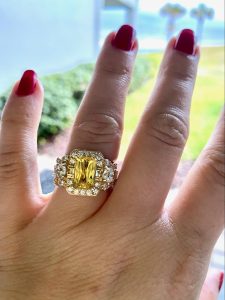 "I would definitely recommend Miriam's Jewelry over any other local jeweler," said Annie. "They're accountable and actually care about their customers; they make you feel like you're part of their family."
Don't let the memory of your engagement be tainted by poor timing or unresponsive jewelers. Choose your local, family-owned and operated jewelry store Miriam's Jewelry for all of your engagement, wedding and anniversary gift needs. With three convenient locations across South Jacksonville Beach, San Marco Square and Ponte Vedra Beach, there's an opportunity to find love in a custom accessory close to home.
Visit our store to celebrate your one-of-a-kind love today.