Accentuate Your Inner Goddess with Emeralds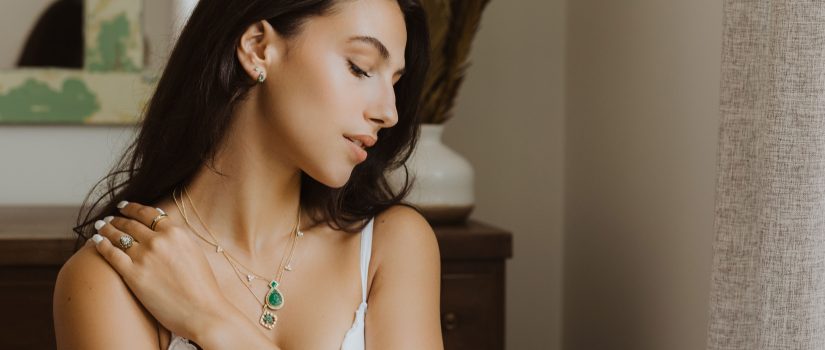 Emeralds are one of the most precious gems available, coming in striking green shades that are absolutely beautiful. These stones mostly come from Brazil, Columbia and Zambia—and they look amazing set in white or yellow gold. They come in all kinds of styles, too, which means there is always something available whether you're looking for a traditional look or something that suits modern fantasies.
Looking for emeralds to add to your collection? Here are some favorites that you can find at Miriam's Jewelry.
Emerald Statement Rings
Few pieces have as much wow factor as a big, bold statement ring. Even if you're dripping with diamonds, a massive emerald like this one will steal the show. Statement rings are perfect for people who want to make a big impression at formal affairs. Wear this one to your next gala, and you'll see what we mean.
Dainty Emerald Studs
Looking for something more subtle? A pair of dainty emerald studs is the way to go. These offer a classic, understated look—but the rich green shade stands out enough to be noticed. Studs are perfect for casual outfits, but you can also pair them with bold pieces to put a formal look together.
Diamond & Emerald Stud Earrings
For something with sophistication, try mixing vibrant stones. These diamond and emerald earrings combine bold diamond halos with emerald green and 18-karat white gold that you can wear casually or when you're headed out for cocktails. Pair them with other pieces featuring diamonds or emeralds to create a cohesive—and glamorous—look.
Emerald and Diamond Band
This emerald and diamond band is a classic, ideal for everyday wear or accentuating something more formal. The emeralds stand out with their lovely shade of green, while the diamonds offer unparalleled sparkle that draws the eye to your hand. If you're looking for a gift, this band is versatile enough for lots of looks, which makes it an ideal present for the girl who has everything—but always loves a little more jewelry.
Vintage Emerald Flower Pendant Necklace
Few things give a piece of jewelry a vintage look like beautiful beaded chains. This vintage emerald flower pendant necklace features deep green cabochon-cut emeralds complemented by yellow gold. It's truly a stunning piece that is subtle enough for everyday wear or layer with an additional necklace for social occasions that call for jewelry that makes a statement without saying a word.
These are a few of our favorites here at Miriam's jewelry, but if you shop our selection, you'll find a wider variety of emeralds that is sure to have something suiting your tastes. We also offer custom design services if you'd like something personalized. Contact Miriam's Jewelry to schedule a personal design consultation today.