Staff Spotlight: Miriam's Ponte Vedra Beach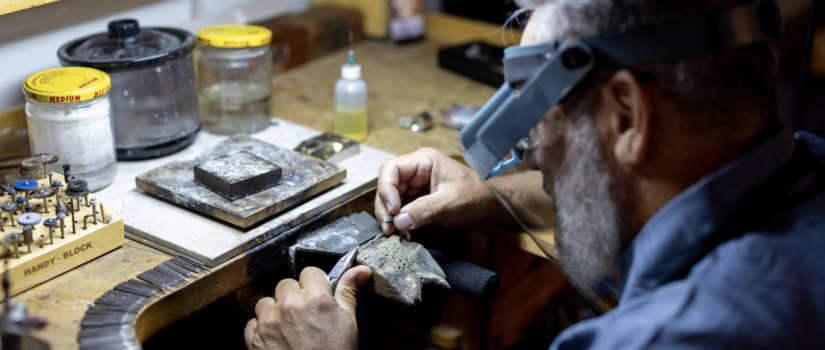 Our team has always taken great pride in providing impeccable service and treasured pieces for our customers. We've grown the Miriam's brand for 50 years and have expanded to Sawgrass Village to better serve our clients in Ponte Vedra Beach and Nocatee.
The Ponte Vedra team includes star team members Ian Naster, Asher Gavronsky and Kaitlin Thompson. Each of them brings a friendly personality and impeccable service to create memorable moments for our customers. Learn more about these team members who help make Miriam's and our jewelry so special.
Ian Naster, Jeweler
Background
As master jeweler for the Ponte Vedra Miriam's, Ian handles everything from custom design, repairs, batteries and more. Originally from St. Petersburg, he apprenticed in the jewelry industry with his uncle at a young age and has decades of experience manufacturing jewelry. After traveling around the country for years selling jewelry and working special events, he settled down in Jacksonville with his family, including two sons ages 7 and 12. Joining the family-owned Miriam's was a natural fit.
Role at Miriam's
One of Ian's favorite parts of his job is designing custom jewelry for his customers. "The best part is when people come in with jewelry they don't wear, and you can turn it into pieces they will love and enjoy," he said.
After thirty years in the industry, Ian says the technology for jewelry design today has come leaps and bounds. "The CAD (computer-assisted design) is so precise, that's really nice for customers. We work with a lot of newly-engaged couples, and it allows us to show them many different ideas," he said. "We can have a CAD made up and create their dream ring based on different components they like. Or, if a couple comes in with a hand-me-down ring, we can redesign it so they'll love to wear it. I can tell them how much it will cost, and they can even try it on their finger with a wax model we create before we make the real thing. That way, we can make sure it's exactly perfect."
For Ian, jewelry design is a personal and emotional business. "It can get emotional when I put that perfect ring on someone's finger," he said. I see people cry, laugh. That feeling for me is euphoric."
Asher Gavronsky, Store Manager
Asher has worked at Miriam's on and off for nearly 15 years — after all, he's family! Miriam is his aunt, while Leah and Benji are his cousins. He's grateful they trusted him with the management of their newest store, and he loves coming to work every day.
"I feel honored they allowed me to be part of this with them," he said. "The responsibility of managing this store is what drives me and gets me up in the morning. We're taking care of our customers' most prized possessions and family heirlooms. That pushes me to keep going daily."
Background
Though he's worked exclusively in the jewelry business for the last seven years, Asher has an eclectic background. For over twenty years he worked as a chef in various restaurants across Jacksonville, including Eleven South, Ocean 60, Worman's Bakery & Deli, Biscotti's and Sterlings. He was French-trained for full-course meals made in-house, and he also worked with in-home catering for fine dinners.
Originally, he went to technical college for Marine mechanics and worked with marine diesel heavy duty equipment for companies like Miller Electric. After the economy shifted in 2008, he decided to return to the family business and has been happy at Miriam's ever since.
Role at Miriam's
Asher wears many hats as the front of the house manager. He troubleshoots any questions for customers and employees, buys gold and estate jewelry, manages the repair department, and he is the head of the watch department including service, fine watch cleaning and repair on straps or internal parts. He loves to get watches looking brand new again. He also manages the pots, flowers and orchids outside the store as gardener extraordinaire. He truly does it all.
One of the many projects he's started at the new Ponte Vedra store is costume jewelry repair. He said this service has become a necessity. While costume jewelry is not high-end jewelry like Miriam's typically sells and repairs, he found that many of Miriam's customers have a great need to get it repaired, since most jewelers will not service that type of jewelry. He explained that it is much more delicate than fine jewelry and takes a jeweler with a great deal of patience to repair properly. But anything that helps his customers he said, he wants to do for them.
"I take the time to do the little things people appreciate," he said. "I've done special delivery to my Vicars Landing community to my customers who can't come in person. I do try to do anything my customers request. Anything to help!"
Helping comes easy when you have customers as amazing as Asher's clients in Ponte Vedra.
"I can't say enough about how welcoming this community has been to me and everyone at the store," he said. "It's been really nice to be thanked and told we're glad you're here from our regular customers. I can't go to Publix anymore without walking the whole store and talking to our customers. I feel like the Mayor of Sawgrass Village. This has been really nice to take this on."
Kaitlin Thompson, Customer Service Specialist
Kaitlin grew up learning about diamonds and jewelry from her father figure, who also worked in jewelry. She has always been an "artsy" person, with a love for drawing and painting. She loves her job at Miriam's and can't wait to see where her career in jewelry will take her.
"My job is awesome, after all I'm sitting here right now organizing diamonds," Kaitlin said. "Asher and Ian teach me all day. I'm learning everything, and I'd love to get into jewelry design eventually. Maybe I could become a jeweler like Ian one day!"
Background
A Jacksonville native, Kaitlin often used to see Benji and her son while working at a local Metro Diner. One day, she decided it was time to move on from her restaurant work to pursue her passions. She put in her two weeks' notice, and just like fate, Benji offered her a job to work at Miriam's the same day.
Kaitlin says Benji has offered to send her to the GIA (Gemological Institute of America) next year to earn her certificate in diamond grading, so she can become an expert in clarity, cut, color and brilliance.
"I'm ecstatic," Kaitlin gushed. "I think it's so awesome that Benji is doing this for us. It'll be so great for me to know more so I can help guests better understand what they're buying and pick out the right ring for them."
Role at Miriam's
Kaitlin is the first smiling face you'll see when you walk in the door at the Ponte Vedra store. As a customer service specialist, she loves talking with customers and helping them find the perfect pieces. While assisting customers is her top priority, she helps out with a little bit of everything, from setting out the jewelry displays to organizing diamonds to cleaning jewelry. She loves customers' over-the-moon reactions when they see their freshly polished pieces.
More than anything, she loves to see the smiles on her customers' faces when they see their custom heirloom pieces.
"We help people with sentimental jewelry all day," Kaitlin said. "It's nice helping people fix older jewelry or redesign it so they'll wear it. And I love to see their smiles. I'm just so grateful to be here."
Visit Miriam's at Sawgrass Village in Ponte Vedra Beach
No matter what you're shopping for, our dedicated and talented team can help you choose the perfect thing, including custom engagement rings, diamond earrings and diamond bands. Contact Miriam's Jewelry to schedule a personal design consultation.